Note: You will need the Adobe Acrobat Reader to view these files. CLICK HERE to learn about PDF and to get the free PDF Reader program if you don't already have it.
Networking – Fall 2004
Download Now (PDF/3978K)
The Kent Center Honors Community Leaders
The Kent Center Achieves Highest Accreditation and Commendation
Holiday Highs & Lows
Grant Received To Provide Substance Abuse Services to The Region's Most Vulnerable
Doing The Math Part II: Consumers Rate The Effectiveness of Kent Center Services
High Marks for Hillsgrove House
The Kent Center's Holiday Wish List
Adopt A Family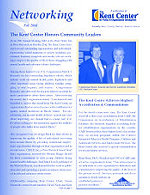 Networking – Spring 2004
Download Now (PDF/238K)
The Eleanor Briggs School Awarded Grant by VSA of RI
Outreach for Recovery
Warwick Truancy Court Award for The Kent Cent
Why Should Everyone Care About Mental Health Funding?
Doing The Math: Outcomes and Total Quality Improvement
What's in a Name and Why We Changed Ours
Grief and Trauma; A Conversation with Dr. Jim Bonnar
The Kent Center Receives National Award
The Kent Center Charitable Funds
---
ABOUT PDF
PDF is an acronym for "Portable Document Format." It's a file format created by Adobe that lets you view and print a file exactly as the author designed it, without needing to have the same application or fonts used to create the file. Since its introduction in 1993, PDF has become an Internet standard for electronic distribution that faithfully preserves the look and feel of the original document complete with fonts, colors, images, and layout.
If you don't already have the free Adobe Acrobat Reader installed on your computer, you may download it by clicking on the Adobe logo at right.